Established 44 years ago, we are a sewing company based in Himi City, Toyama Prefecture that handles everything from kimono tailoring to machine development in-house.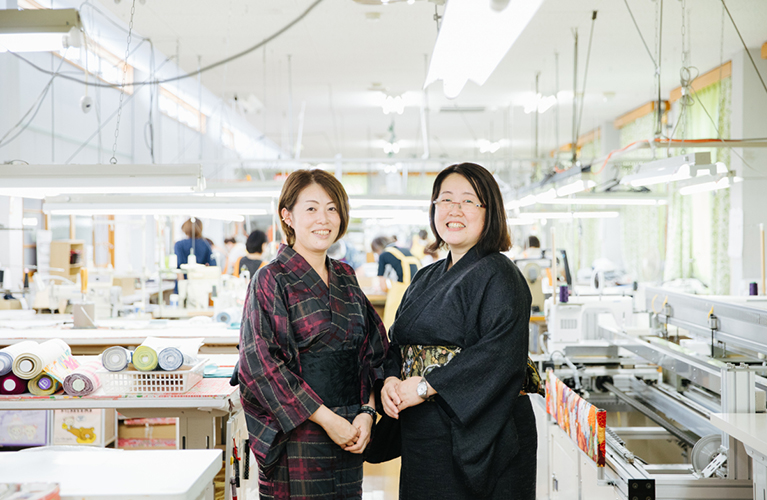 Lapoge Co., Ltd. was founded as a kimono sewing company in Himi City, Toyama Prefecture.
As a company run by women, we are also focusing on creating a workplace where women can play an active role, and we are also taking on the challenge of working towards the SDGs and new ways of working that are rooted in the local community.
We wanted to bring the Japanese sewing skills that only experts can perform to as many people as possible, so we conducted a thorough process analysis of sewing techniques and brought together the entire sewing process by introducing an in-house developed sewing machine.Every day, we focus on tailoring that conveys the techniques of domestic sewing.
Quality is improved through friendly competition between people and technology.
While preserving the splendor of Japanese tailoring that has been passed down since ancient times in Himi,As a company that responds to the needs of the times, we strive to ``make things like that, make things like this''.We will continue to contribute to Japanese manufacturing by staying close to this idea.
La Poge Co., Ltd.
Representative Director and President Sayuri Shiraishi
Representative Director and Vice President Mayu Sakurauchi
Company Profile
Trade name

Lapoge Co., Ltd.
location
250 Izumi, Himi City, Toyama Prefecture 935-0065
Founding
April 1, 1978
Establishment
April 10, 1990
representative
Sayuri Shiraishi / Mayu Sakurauchi

capital

50 million yen

number of employees
24 people
Business content

Japanese clothing sewing (full order kimono)
Japanese cycle (tailored with original design)
design order
Original product development and sales

Development and sales of various machines for curtains
Award
1988 Toyama Prefecture Industrial and Economic Achievement Award
2000 12th Small and Medium Enterprises Excellent New Technology and New Product Award, Excellence Award, 38th Toyama Prefecture Invention Exhibition, Patent Attorneys Association Chairman's Encouragement Award
2003 21st Toyama Wind and Snow Award (Suueko Shiraishi)
2008 Certified as a "Gender Equality Promotion Office" by Toyama Prefecture
2011Toyama Prefecture "Toyama Award, a Vibrant Company Where Women Shine"
2022 Healthy Company Declaration Toyama Promotion Council (Toyama Prefecture Health Department Health Division)Toyama Healthy Company Declaration (Step 1) Certification
2023Himi City Work Style Reform Excellent Company"Himi Lively Work Style Support Award"(FY2020)other
access map
■Approximately 1.6km from Hokuriku Expressway Himi IC
■Approximately 12 minutes by taxi from JR Himi Station